RPEQ / Functional Safety Services
Automation IT has extensive experience in the design of control systems across a range of industries and applications. Our experience in industrial control systems has enabled us to provide a range of solutions to not only control machinery but also protect the machinery and its operators from unsafe situations or hazards.
If we look at a typical safety application in some detail, what we have essentially is a control system operating machinery via a set of hydraulic, electric or other controls with a series of monitoring devices and safety interlocks to ensure the safe motion of the object. The key items to note are the means of actuation, the personnel exposed to the machine and the requirements for safety interlocking. The failure of the control system could result in injury, possibly death and uncontrolled motion causing equipment downtime and machinery damage.
The safety system needs to work autonomously without any user intervention while at the same time enabling movement via the electro-mechanical arrangement. The main safety PLC on the machinery shall monitor the hydraulic pressure, electrical signals/sensors and take evasive control in the event of the machine being approached while in motion or under a number of other potentially unsafe conditions. Audible and visual alarms will be required to warn the public of impending motion and various options exist for preventing pedestrian traffic while motion is active.
To achieve the required safety functions for this type of application it is not generally possible to follow a single standard. The requirements to include and control electromechanical devices such as contactors and hydraulic valves requires the use of EN ISO 13849 in addition to IEC62061 and IEC 61508. It is worth noting that AS4024 attempts to combine elements of numerous other standards to provide a one stop shop but AS4024 does not cater for the use of Safety Integrity Level's and it is our opinion that a better result is achieved by using the root standards. The interaction of these standards is outlined in the below diagram.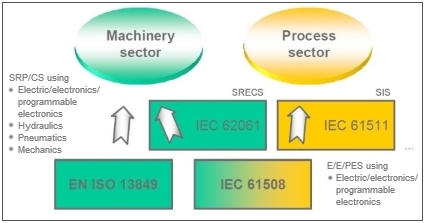 From this diagram we can see that IEC 61508 is the main standard which outlines the requirements for a safety system when dealing with Safety Integrity Level (SIL). From this standard we are required to make a choice as to whether the system to be controlled is machine based or process based. This decision is based primarily on the demand of the safety system, Automation IT can advise on the customers requirements and ensure the system is designed to suit their needs.
In any safety related control system, the first task is to perform a risk assessment and Hazop (Hazard Identification) to identify the possible hazards and calculate the risk profile of the machine without any safety systems in place. There are several methods available to do this and we would generally use both the system outlined in IEC 61508-5 plus that outlined in IEC 62061 /12100 / IEC 14121 to ensure a constant result is achieved. Factors considered in risk assessments include those in Figure A.2 from IEC 62061 below.

Risk reduction is achieved by implementing control measures to reduce the risk to tolerable levels and calculations must be carried out to verify the design and chosen equipment to ensure the required performance level or SIL is achieved. All equipment chosen will be based on the SIL required from the risk assessment process and dangerous failure data for the safety mission time would be analysed.
Once a design has been confirmed and components have been chosen by Category, Mean Time to Failure and required Diagnostic coverage, the design would be validated and finally verified once installed to ensure it meets the required performance.
Automation IT have RPEQ qualified engineers on staff who would supervise all engineering works for any project undertaken and engineers who are TUV certified Functional Safety Engineers. A requirement of any functional safety design is that it undergoes a peer review by an independent TUV certified functional safety engineer. It is a legal requirement for all engineering services being carried out for QLD projects (regardless if they are completed interstate or in QLD) be supervised and certified by an RPEQ.
Obviously this page is only a very brief outline of the project requirements from a functional safety perspective and its purpose is to show an insight into functional safety design and implementation for industrial machinery. Should any further information be required please do not hesitate to contact Automation IT.