Price versus value: Maximising the value of your SCADA
It's a dilemma that everyone faces when having to choose between more than one product or service; price or value? While a poor purchasing decision may not have an impact on an everyday purchase, when it comes to choosing a systems integrator to install or maintain a complex SCADA system, the wrong choice could be costly in more ways than one. In this article we look at what defines 'value' in SCADA installations, and why value should be the determining factor for any project rather than just the price.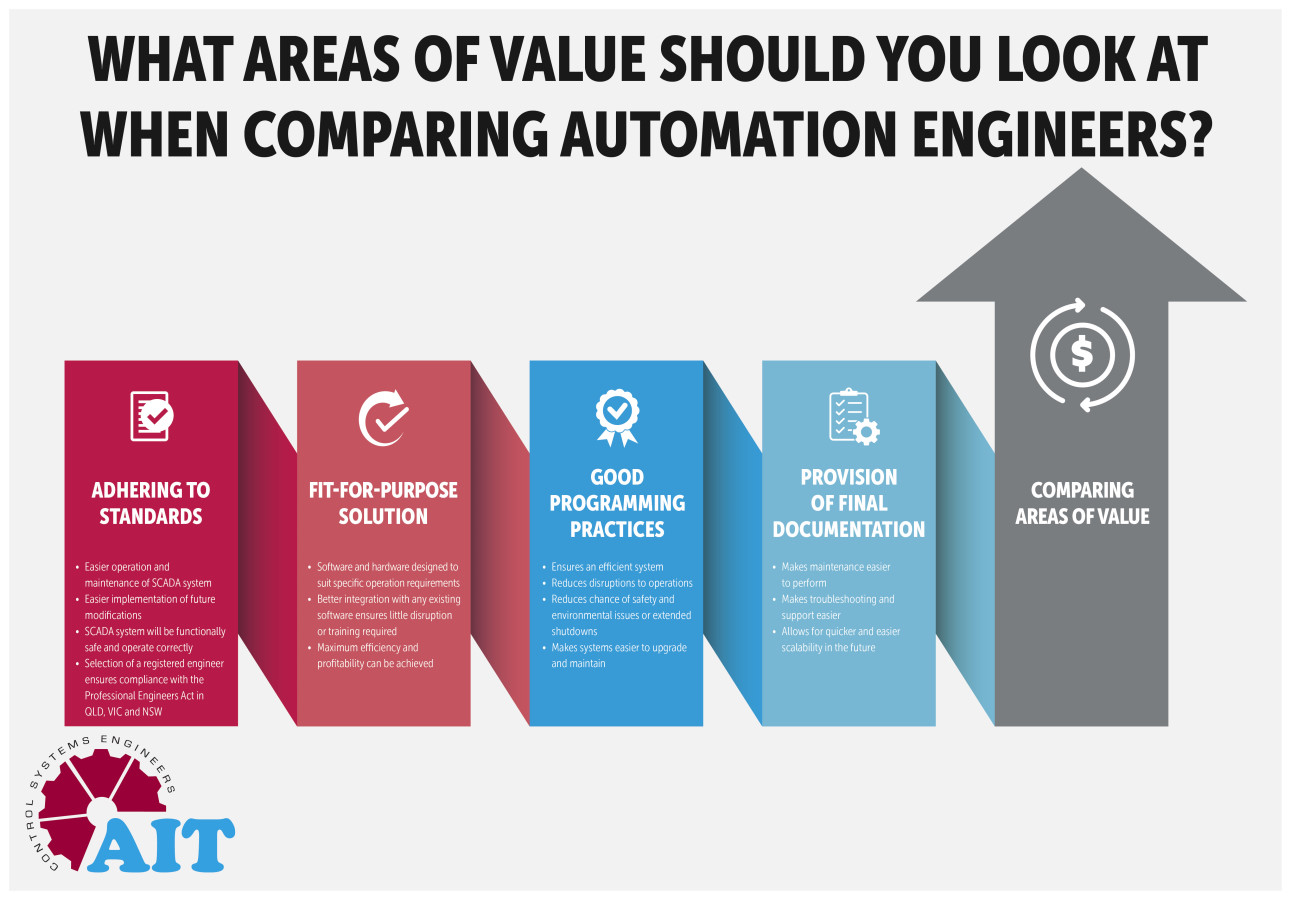 Price versus Value: What's the difference?
The price of a particular 'thing' and its value is not the same, price is simply what one pays, value has a context and can provide benefits that extend beyond paying a monetary price. Value is the usefulness of a product or service to a customer and defines it's 'worth'.
When evaluating the value of a particular product or service, most people incorrectly assume the price of something is directly related to the benefits, i.e. the lower the initial price (cost) the more I'll have in the bank once I've paid the invoice. When considered in the context of purchasing say, for example, a widget or multiples thereof, then price is easy to define and justifiable.
When considering the cost of implementing or upgrading a SCADA system, items such as the supply of hardware and software along with labour costs of an engineer and associated expenses all come into play, and it's the sum of all the individual parts that make up the SCADA system which is a lot more difficult to justify based purely on costs, as the actual price paid may not always represent true value.
Something else to consider: just because something is a higher cost, it does not necessarily mean it is good value. When evaluating a particular company or service it's important to consider the entire lifecycle and total cost of ownership benefits, which in some cases may be derived from the lower cost option, especially where innovation is involved.
In simplified terms the main difference between price and value, whether it be a widget or a complex SCADA system, is risk.
The best way to understand and mitigate any risks while determining the best value solution for any project, regardless of perceived cost, is to make sure any evaluations are done on a level playing field where engineering solutions or services comparisons are done 'apples for apples'.
The following are some points on how projects can be successfully implemented with minimal risks while providing lower operating costs.
Meeting standards
According to Geoff Bladon, Automation IT's Business Development Director, when choosing a SCADA systems integration company one way to determine value is how well they document their work and follow customer provided or consistent internal standards.
"Selecting a company that adheres to standards is important for numerous reasons including easier operation and maintenance of systems. If standards are followed, the system will not only function correctly but make future modifications and maintenance easier."
"Following standards also ensures that correct functionality is achieved. This is important in ensuring the machine design meets requirements, is functionally safe and operates correctly. If something goes wrong because functional safety standards weren't followed, everyone involved in the design is liable."
"Adherence to standards with quality documentation can provide the most value for customers, it is their assurance that the system is the most efficient and effective it can be."
"At Automation IT we understand that standards and certification provides our clients value so we have Registered Professional Engineers and TUV Rheinland certified Functional Safety Engineers on staff. We also only select equipment that has been assessed and meets all requirements through factory certified Australian distributor channels."
"While we generally won't be the cheapest at time of tender, our clients can be sure that their system will be of high quality, function as intended, be well documented and meet all relevant standards. This normally saves them a lot more that the difference in the initial price"
It is also important to be aware of individual state laws in order to comply with requirements for the engagement of registered engineers:
In Victoria, the Professional Engineers Registration Act 2019 requires professional engineers in five areas of practice (civil, structural, mechanical, electrical and fire safety) to be registered and applies across all industries. The law commences on 1 July 2021
In Queensland, the Professional Engineers Act 2002 requires that professional engineering services be carried out by or directly supervised by a practicing Registered Professional Engineer of Queensland (RPEQ) and the work must be within their area of competence. The only exception to this is work being carried out to a prescriptive standard. However, as there is no prescriptive standard for PLC programming as the code needs to be designed to perform a specific function by the engineer, an RPEQ is required to be engaged
In New South Wales, the Design and Building Practitioners Act 2020 requires professional engineers – in the same areas of practice as Victoria and across all industries – to be registered to practice. The law commences on 1 July 2021
Other states and territories are exploring registration of engineers and are various stages of discussion
Final documentation
Another area where clients can gain value is from selecting a systems integration company which provides full documentation of the project and its final coding.
"It might seem like it should be a compulsory service, but not all SCADA integration companies provide their clients with full and final documentation," Geoff said.
"Final documentation should be included in the contracted scope of supply as proper documentation is key for maintenance, support and scalability."
"Without this documentation it can be very difficult for a systems integrator to come in to perform maintenance, troubleshoot or make important modifications. This is especially true if poor coding practices have been used as it can make the code difficult and time consuming to interpret, especially when system functionality changes are required. This ultimately translates to price as it will take longer to perform these tasks should final documentation not have been provided."
"That is why part of Automation IT's service includes providing our clients with a fully-documented code, that complies with all laws, standards and warranties."
Proficient programming
Coding that has not been correctly implemented can result in many different problems, the lesser of these can include system inefficiencies and minor disruptions to operations, the major problems include safety and environmental issues or extended shutdowns. Any of these can be extremely costly, so the cost versus value risk assessments must be well considered.
"Along with these risks, incorrect or bad coding practices also make systems difficult to upgrade and maintain. This is made more difficult if the previous systems integrator did not provide final documentation along with all the drawings, documented software codes and operation manuals to provide guidance with what has been done previously."
A fit-for-purpose solution
Selecting a systems integrator that provides fit for purpose solutions based on their extensive experience will generally yield the most value.
"Many off-the-shelf solutions are often lower cost than those that are designed to be fit for purpose. By selecting a fit for purpose option, clients can have peace of mind, knowing that the hardware and software have been designed to suit their specific operation needs and requirements, including its integration with their current software package, so there is very little disruption or training required to the existing system."
"This also ensures that they will get the most benefit from their system, with maximum efficiency and profitability."
"As a vendor independent integrator, Automation IT are able to source many different solutions from well-known and industry proven control system manufacturers, allowing us to choose the best software and hardware to suit the customer's requirements to deliver a truly fit for purpose solution. We can also integrate with existing MES or ERP reporting solutions, as well as offering web based monitoring facilities."
"While an initial cheaper price option may be tempting, it's important to view value based on the system as a whole including total cost of ownership. Ensure the service or product being provided meets all relevant standards while prioritising safety and quality, engage a highly experienced company that understands not only complex engineering systems but how a particular product or system can benefit the client now and in the future."