MANUFACTURING EXECUTION SYSTEMS (MES) & INDUSTRIAL IT
Is your plant producing 100% output all of the time?
Can you reduce costs while improving quality?
Can you increase production on a line?
What is MES software? How can it help your plant?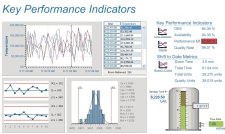 PROCESS IMPROVEMENT
Automation IT is able to install software systems which are able to identify, analyse and improve various processes within your organisation. This process enables our clients to increase efficiency, reduce downtime and ultimately increase profitability of their assets.

This outcome can be achieved in multiple ways including identifying bottlenecks, analysing production downtime causes, calculating key performance indicators and reporting the relevant information in a clear and concise format to the appropriate people allowing them to make the correct decisions at the right time.
CONDITION MONITORING
Condition monitoring is the process of monitoring equipment parameters such that a significant change is indicative of a developing failure. It is a major component of predictive maintenance. The use of conditional monitoring allows maintenance to be scheduled, or other actions taken to avoid the consequences of failure, before the failure occurs.
SOFTWARE AND DOCUMENT CHANGE MANAGEMENT
By implementing a change management system it is possible to create a single portal where everyone is able to view all of the information from one secure location. In addition to consolidating data it is also possible to control all modifications made to the information, maintain a full audit trail of historical changes, compare versions of files, create backups of all historical changes and set different user privileges, allowing users to only view and change the files that are relevant to them.