QUALITY ASSURANCE
Automation IT has an ISO 9001:2015 Quality Management System in place and is committed to providing customer satisfaction with the highest quality of goods and services.
Why?
Automation IT recognises that QA provides the company with a systemised and well planned business. It reduces rework and waste associated with not doing it right - first time!
The results
Improved efficiency
Improved effectiveness
Improved customer satisfaction
Improved credibility
A market advantage over competitors
The Automation IT Quality Assurance System wasn't implemented by a Third Party company for the purpose of accreditation. It was implemented by the people who use and understand it the most - Automation IT Staff.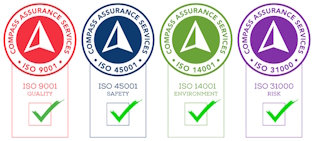 OCCUPATIONAL HEALTH & SAFETY
Automation IT's commitment to the safety of its employees and all those around us is recognised through an in-house Safety Management System. The company is Third Party certified to ISO 45001:2018 Occupational Health and Safety Management Systems.
The emphasis in the Standard is for companies to identify hazards, then develop and implement control actions which, whenever possible, eliminate those hazards or isolate people from the hazard. Where this is not possible, work activities should be planned and controlled through administrative means to the extent necessary to prevent injury and illness.
ENVIRONMENT
Automation IT is certified to ISO 14001:2015 Environmental Management Systems. The overall aim of this International Standard is to support environmental protection and prevention of pollution in balance with socio-economic needs. By controlling the impacts of our activities, products and services on the environment, consistent with environment policy and objectives, Automation IT aims to achieve and demonstrate sound environmental performance.
RISK
Automation IT is certified to ISO 31000:2018 Risk Management Systems. Our risk management processes and procedures ensure every project is undertaken with risk mitigation as a priority.