The importance of standards in automated systems
Choosing a control systems integration company that provides products and services that are compliant with relevant standards increases the quality of the automated system installed at a site. Standards ensure operation and maintenance of the plant and associated equipment is improved, with greater efficiency, safety and reliability.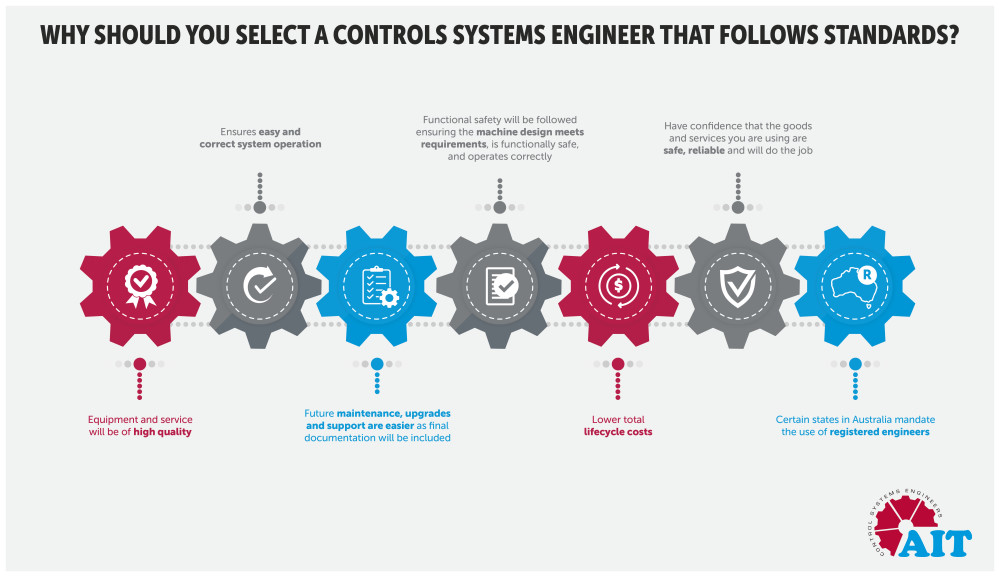 Standards are designed to ensure systems are safe to implement and operate, reliable, easy to troubleshoot, and efficient
There are three relevant kinds of standards:
International standards are developed by the International Organisation for Standardisation (ISO), International Electrotechnical Commission (IEC), and International Telecommunication Union (ITU). They can be directly adopted by countries for their national use.
Regional standards are prepared by a specific region such as joint Australian/New Zealand standards.
National standards are developed by a national standards body or other accredited bodies.
Why follow standards?
According to Geoff Bladon, Business Development Director at Automation IT, it is important for asset owners to choose a systems integration company that adheres to standards for numerous reasons, including easier operation and maintenance of systems.
"When systems integration companies follow standards not only will the system run correctly but future maintenance will be easier," Mr Bladon said.
"We've come across systems that were difficult to upgrade because of bad or incorrect coding practices. This is made more difficult if the previous systems integrator has not provided the client with drawings, documented software codes and operation manuals to provide guidance with what has been done in the past.
"Final documentation should be included in the contracted scope of supply as proper documentation is important for maintenance, support and scalability.
"That is why we create and provide clients with a fully-documented code, that complies with all laws, standards and warranties."
Following standards also ensures that correct functional safety is followed.
"Functional safety standards are important as it ensures that machine design meets requirements, is functionally safe, and operates correctly. What some people don't realise is if something goes wrong, everyone involved with the design is liable so you want to be certain that there is minimal chance that something will go wrong," Mr Bladon said.
Standards also provide additional benefits to clients such as ensuring the system integration is the most efficient and effective it can be.
"Knowing their systems integrator is certified by a recognised body, such as TUV Rheinland, and following standards, gives asset owners the confidence that the goods and services they are using are safe, reliable and will do the job they were intended for," Mr Bladon said.
"That is why at Automation IT we have a strong focus on standards and promote system reliability through the choice of design and equipment that has been assessed and meets all requirements.
"We have Registered Professional Engineer of Queensland (RPEQ) and National Engineering Register (NER) qualified engineers, and TUV Rheinland certified Functional Safety Engineers on staff so our clients can be sure that their automated system will be of high quality and meet all the necessary standards."
Driving down costs
Mr Bladon said that ultimately compliance of standards comes down to the total cost of ownership of the system.
"Compliance of standards has an impact on the quality of equipment and services, and working with a company that doesn't comply can create a false economy, with the lifecycle costs of the system costing more than expected.
"Costs add up over time if equipment needs to be replaced, or if bad coding is used, resulting in less productivity, increased inefficiency, and difficulties upgrading the system.
"It's important to take standards into consideration when choosing a systems integration company, and not just focus on immediate project costs.
"Certain states in Australia also mandate the use of registered engineers, such as Queensland, where it is illegal for anyone other than an RPEQ to perform engineering design unless they are directly supervised by an RPEQ.
"We see far too many companies providing cheap engineering services and not meeting these legal requirements. Unfortunately, there is still a 'head in the sand' approach from too many electricians and engineers who either don't know or don't want to know the law."
What are the relevant standards for integrated systems?
While there are numerous standards that apply to automated systems some of the most important ones include:
AS3000 – Electrical Installations (Known as the Australian wiring rules)
AS3007 - Electrical equipment in mines and quarries - Surface installations and associated processing plant
AS3008 - Electrical installations - Selection of cables
AS3439 - Low-voltage switchgear and controlgear assemblies
AS61131 - Programmable controllers
There are also a number of important standards for functional safety which deal with the overall safety that rely on a system or equipment operating correctly in response to its inputs, including:
AS4024 - Safety of machinery
ISO13849 - Safety of machinery - Safety-related parts of control systems (Implemented in AS4024 as AS4024:2014.1503)
AS62061 - Safety of machinery - Functional safety of safety-related electrical, electronic and programmable electronic control systems
AS61508 - Functional safety of electrical/electronic/programmable electronic safety-related systems
AS61511 - Functional safety - Safety instrumented systems for the process industry sector
ISO12100 - Safety of machinery - General principles for design - Risk assessment and risk reduction