Telemetry and remote access
Telemetry plays a key role in asset management, allowing data from remote sites to be transmitted to a central system. Over the past few years, as communications technology has advanced and a wider range of products are becoming available, it has increasingly become a more cost-effective alternative to manual monitoring and data collection where assets are spread over a large area. Here, we look at some of the considerations when selecting a remote telemetry unit (RTU).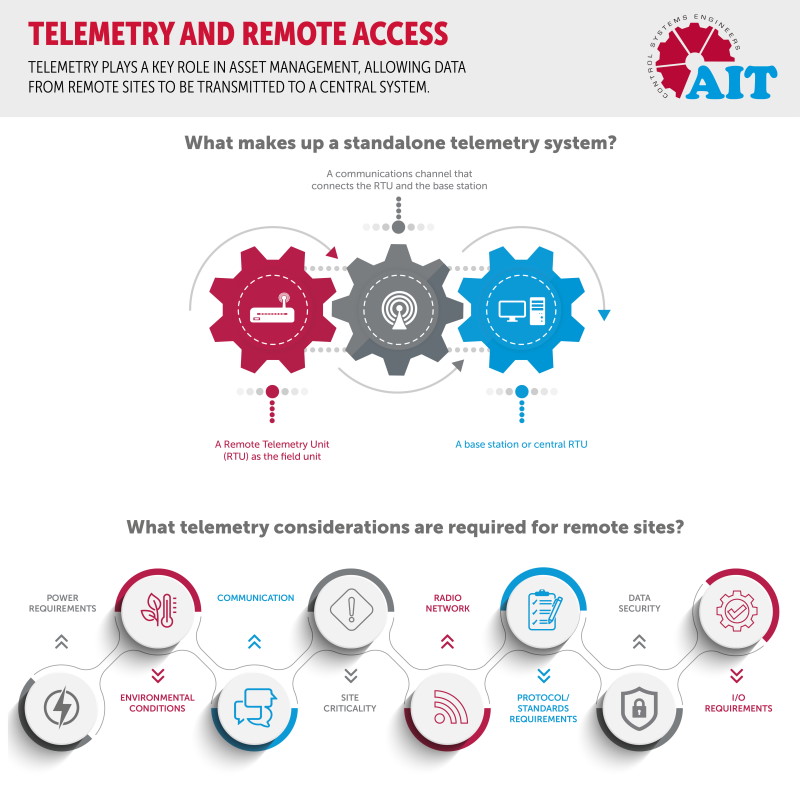 A typical standalone telemetry system is made up of three key components: a Remote Telemetry Unit (RTU) as the transmitter, sometimes referred to as a slave unit; a base station or receiving unit, sometimes referred to as a master unit; and a communications channel that connects the RTU and receiver.
Individual RTUs can be used to monitor remote sites with the information transmitted back to a base station where it can be monitored, logged and analysed on some form of interface such as a SCADA system. For larger systems, the RTUs may be required to perform near real-time monitoring along with control, so the communications link needs to be reliable enough with consideration for potential redundancy options.
Remote site considerations
When undertaking an RTU design and selection process, there are numerous considerations for the asset/s being monitored, including but not limited to:
Power requirements

Are there any existing power assets on the proposed site to run the RTU?
Are there any solar and/or battery backup requirements?
What voltage is the system and/or are any voltage converters required?

Environmental conditions

Will the RTU be located inland or near the coast?
What temperatures are anticipated at the site/s?
Is additional venting, sun shields etc. required?
What is the anticipated IP rating?
Will the RTU require some form of enclosure or can it be mounted as a standalone device capable of withstanding all forms of environmental conditions?
What, if any, lightning and/or storm protection is required?

Communication

What is the distance between sites?
Is there line of sight between the RTU and associated infrastructure?
What antennas and associated masts will be required?
Are any repeater sites available and/or required?
Is there a requirement for some form of communication redundancy?

Site criticality

Does the site require 24/7 availability?
Is control functionality required for the site/s, or just monitoring?
What alarms/messaging alerts are required?
What level of network security is required?
What level of vandal protection is required?

Radio network

Is the proposed radio network licensed or unlicensed?
Are any ACMA applications or approvals required?
What type of radio network will be used, Ethernet or Serial?

Protocol/standards requirements

Modbus TCP and/or serial
DNP3
IEC 61850
Other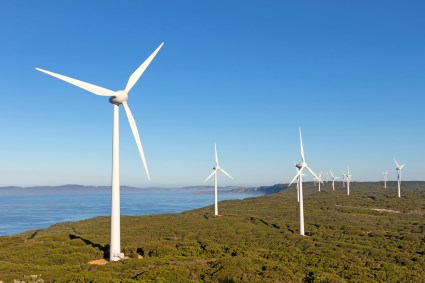 Power supply considerations
As RTUs can be used in applications where they are not necessarily near mains power supply, they generally have the ability to operate on batteries or solar power and are available in low and ultra-lower power configurations to conserve energy.
Low power configurations can operate on a small solar power system, while ultra-low power configurations can draw power from an internal battery for years without drawing power from a solar panel or other charging source.
Whether an RTU is connected to mains power supply or not, it is important to consider if a backup power supply is required in case the primary supply fails, especially if it is a critical asset. A backup supply can be provided by a battery, solar power, wind power, a standalone generator system or a combination of these.
Monitoring and control: What do you need?
RTUs are primarily used for monitoring purposes, however some units can also provide the ability to control equipment if required. Integrating remote sites using RTU hardware which can both monitor and control provides improved efficiency, faster responses to unplanned events and avoids lengthy travel requirements for things such as changing simple set points.
Meeting standards
There are a number of standards that affect the selection of RTUs, and these standards need to be considered at the earliest stages of the project. Specific standards are more prevalent in certain industries, for example IEC 61850 has been specifically designed for power networks, and DNP3 which is widely used in the water and pipeline industries, further information is outlined as follows:
When considering the power industry, RTU hardware and software should be compliant with IEC 61850 - a common protocol that facilitates interoperability and communications among other intelligent electronic devices. This has a number of benefits for the asset owner and operator, including eliminating procurement ambiguity, sequence of event monitoring, simplified commissioning, equipment migration, extension and integration
As part of IEC 61850, the generic object-oriented substation event (GOOSE) message service can be utilised, as it enables new applications and improves methods of implementing established designs
DNP3 communication protocol has many advantages for telemetry applications including wide range device support, bridging via different communication networks, operation on both high-speed Ethernet networks as well as slow speed radio networks, support for exception reporting (communicating only when necessary) and supporting broadcast style messages on the same network
There are numerous other electrical, control and safety standards that should be adhered to, the following link provides further details: The importance of standards in automated systems
Programming RTUs
RTUs and associated communication networks can be complex, especially where high availability or critical assets are involved, so engaging the services of an experienced RTU engineering company such as Automation IT will minimise the risks of both the communication network and the actual site assets.
It is imperative that the RTU programmer has knowledge of both the software and hardware requirements in order to correctly design, setup, program and implement the RTU application. Automation IT has numerous expert RTU programmers and engineers on staff, including highly experienced Registered Professional Engineers of Queensland (RPEQ) engineers, so can offer unmatched technical capabilities with the highest levels of service and support.
Automation IT has successfully completed many small and large-scale RTU projects across Australia, so can provide an end-to-end RTU solution utilising hardware and software designed and selected to best meet the needs of the site application and end user requirements.
Automation IT is a system integrator and channel partner for the main RTU and telemetry vendors, it is also vendor neutral so can, in many cases, match the brands/types of RTU equipment used to meet existing site standards, or for sites that are open to various vendors, can select from a range of solutions that best meets the end user requirements while providing excellent total cost of ownership options.
Automation IT only uses OEM certified Australian distribution channels for sourcing of hardware and software to ensure all equipment supplied comes with not only full OEM warranties but are also covered by relevant Australian standards and quality requirements.