5 ways SCADA can improve food and beverage manufacturing
Automation of food and beverage manufacturing processes provides manufacturers with value-adding advantages along the entire supply chain, all the way from the field, through the factory to the end user. SCADA is one automation solution that can improve production efficiency and increase profitability. Here, we look at five areas of food and beverage manufacturing that benefit from SCADA.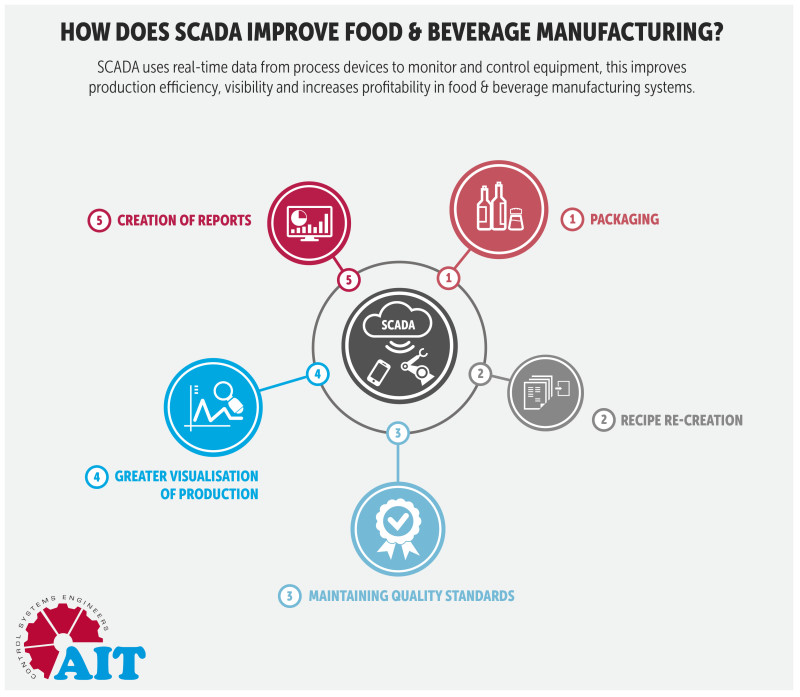 1. Packaging
Packaging in food and beverage manufacturing operations are made up of various machines with differing functions, including cartoning, wrapping, labelling, shrinking, sealing, case and tray forming, capping, cleaning and sterilising, as well as inspection and detecting machines.
SCADA can improve packing operations in a number of ways including:
Better alarming capabilities
Better diagnostic and alarming capabilities can help reduce downtime and product waste. SCADA can help monitor packaging machines and send alarms to Human Machine Interface (HMI) devices when set parameters have been exceeded. This provides factory managers with visibility of the packaging process of each machine from start till finish and allows for immediate response to any highlighted issues.


Predictive and preventative maintenance
Unexpected downtime for food and beverage manufacturers can be costly, so having predictive and preventative maintenance capabilities mitigates these risks. SCADA systems can collect real-time performance data of all machines in operation, this allows informed decisions to be made about when maintenance should be performed or scheduled.


Improved integration
Production requirements can change quickly in the food and beverage manufacturing industry, so having system flexibility is desirable for an efficient and scalable operation. SCADA can provide integration flexibility with disparate hardware and systems along with keeping the system or products updated if changes within the industry or company are required.


Traceability
High food safety standards require manufacturers to trace products throughout the entire packaging process. SCADA automatically collects real-time data and collates it in one central system, allowing manufacturers to link a particular product to a shipment of ingredients, it's associated packaging line or even where it was distributed.
2. Recipe re-creation
Producing a high quality and consistent product is paramount to satisfying existing clients requirements along with tapping into new markets. This can be difficult if the systems in place are not flexible enough to allow the right mix of quality and production.
Geoff Bladon, Business Development Director at Automation IT, discusses the benefits of SCADA in a manufacturing environment.
"SCADA can be used to create user-defined recipes within the system automatically, this removes the need for manual supervision each time a new product batch starts production, it also guarantees a high-quality and consistent product by monitoring recipes. These recipes can also be imported or exported along with real-time data, so provides many options for data gathering and reporting."
The increased control over food and beverage production has several benefits for manufacturers, including:
Eliminating errors when entering step times for every recipe
Removes the need for traditional pen and paper systems of maintaining recipes
Automatic update of temperature set points rather than manual adjustment
Simplified operator control
Monitoring allows problems to be detected and corrected before any faulty product is distributed
3. Maintaining quality standards
Food and beverage manufacturers need to be able to meet the various standards that are applicable in the countries they operate in. In Australia, the Food Standards Code developed by Food Standards Australia New Zealand regulates many facets of the manufacturing process, including the use of ingredients, processing aids, colourings, additives, vitamins and minerals, and the composition of some foods, as well as some labelling requirements for packaged and unpackaged food.
Geoff Bladon says, "Like SCADA can trace products through the packaging process in real time, it can also be used to track a food or beverage product throughout the entire production, process and distribution chain."
"This traceability means manufacturers can see the movements of a product at any point in the supply chain, and use this information to report what food is on its premises and where it came from. This is particularly important when a product batch needs to be recalled, and the source of the problem needs to be identified."
4. Greater visualisation of production
SCADA can be used to get greater visualisation on the status of production by tracking the real-time status of machines and its components. This information can be used to find trends and patterns, as well as for logging comparisons.
Manufacturers can compare this data across their chosen timeframes - from minutes, to hours, and days - and use it to get a quick understanding of how a machine or its components are running, and identify when there is a problem or when maintenance needs to be performed.
5. Creation of reports
SCADA can also create reports, enabling manufacturers to identify, analyse and improve various processes within the organisation.
These reports can help identify bottlenecks, analyse production downtime causes, calculate key performance indicators and report the relevant information in a clear and concise format to the appropriate people allowing them to make the correct decisions at the right time.
Manufacturing Execution Systems (MES) and Enterprise Resource Planning (ERP) software solutions are excellent options for increasing the reporting capabilities of a manufacturing system.
"Automation IT provides integrated manufacturing execution systems (MES), Enterprise Resource Planning (ERP) reporting solutions and web based monitoring facilities which are well suited for most applications," Geoff said.
"We are also able to integrate with existing MES or ERP solutions."
A unique solution for every factory
Geoff Bladon said the key to getting the most out of these benefits and achieving optimal profitability and efficiency, is the right combination of software and hardware that meets the individual requirements of each manufacturing environment.
"Every factory has different needs so it is important to choose an automation engineering company that understands this and is able to design a solution that is fit-for-purpose."
"Automation IT believes that a truly fit-for-purpose solution requires not only well-written and tailored coding, but also hardware that is specifically chosen for its compatibility with a specific manufacturer's needs."
"That is why we are a certified partner with most well-known PLC vendors and other control systems providers, allowing us to select the software and hardware that will be best suited to each individual project regardless of the operation size."
"Often, off-the-shelf solutions might seem appealing if they have a lower price point but these are designed based on the developer's previous experience or their perceived needs of the industry at the time."
"By engaging an automation engineering company that provides fit-for-purpose solutions, the system can be tailored to suit the customer requirements rather than forcing them to change their processes to match the software package installed."
"This ultimately saves the customer money in the long term as less maintenance will be involved and the system can be optimised to make their production lines the most efficient and productive they can be."